Mastering This One Skill Can Take You From Zero To Six Figures
Recently I was on a Zoom mastermind webinar and one of the hosts asked me to speak about some of the things that have helped me become successful.
This was spontaneous so I was in no way prepared. Turns out it didn't matter because it's easy for me to remember some of the things that made the biggest difference in my online career and my bank account.
Number one was deciding to start building my subscriber list. [Hint Hint!]  I ignored everyone who told me that during my first 3 years online. Not sure why but eventually I came to my senses and started focusing a big portion of my time, effort and budget on building my list.
The second thing is somewhat related to list building, in a way, but I wasn't thinking that when I mentioned it during the webinar. I talked about how I'd been following some of the industry's top producers and how I noticed they all had something in common. Every one of their emails was written so well that they were super compelling and almost forced people to take action. Not just any action but the exact action intended by the author of those emails.
I decided then that I had to learn how to do that, too. Back then I had no idea how much writing was an art form and how much science was behind it. And by science, I mean psychology. It's all about connecting with your audience, grabbing their attention and keeping it, and using specific words or phrases that act as psychological triggers. Even the placement of such words or phrases can make a huge difference.
What I learned was so intriguing that I wanted more. It was like the more courses or books I bought and went through, the more I wanted to buy. I started noticing a difference in my marketing efforts immediately.
The engagement, opt in and sales conversions doubled and then tripled when I emailed my list or because of the way I wrote the ad copy on my squeeze pages.
One of the webinar attendees asked me how and where I learned how to write better ad copy. It wasn't really one place or one product. It was several. I started searching online for things like "Writing High Converting Ad Copy" or "How To Write Emails That Sell" and found a few eBooks or courses that I snatched up and dove into right away. You could also insert the word Psychology or Psychological into your searches to get different types of results but most copy-writing books or courses are always going to talk about that anyway.
To save you some time and give you a good starting point, I did some searching on my own. I was specifically looking for certain names. People I learned from myself.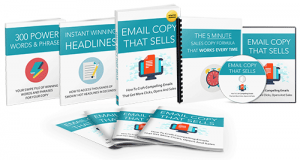 The first product I recommend is a course by none other than long-standing super affiliate Aurelius Tjin appropriately called Email Copy That Sells. Don't let the low cost fool you. It may be less than $15 for this course but what you learn can easily quadruple your monthly income.
One of the bonuses you get if you buy this is, in my opinion, worth as much or more that the course itself. It's a swipe file with hundreds of Power Words & Phrases.
You certainly cannot go wrong with this as your first ever copy-writing mastery course. Even if it's the only product you ever buy on the subject. I have a feeling though that once you go through this one, you'll want to learn more just like I did.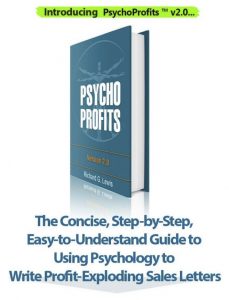 The second product is an eBook by multi-millionaire copy-writing genius Richard G. Lewis titled PsychoProfits. Obviously, by the name, I'm sure you can tell this one is all about the psychological aspect of copy-writing and getting people to take action. PsychoProfits is only $27. A drop in the bucket considering how much more you will earn after going through it.
What Richard teaches can be applied to any type of ad copy. Not just emails. Things like sales videos or sales pages or squeeze pages. Anything that requires content that you need people to who read it to take some form of action like opting in, joining, or whipping out their credit card to buy something.
Every top producer in this industry has mastered at least one main skill. And for many of them, writing high converting ad copy is at the top of that list. Some people only ever master this one skill and outsource everything else.
With these two products you can learn things that you will use daily. And if you really want to help your followers out, you can recommend both of these products to them. They are each sold through JVZoo so you can look them up and request approval to sell them and they both pay 100% commissions. Now that's a win-win deal if I ever did see one. You learn a ton, you help your followers or subscribers to learn something that they will use and make money from for years, and you get paid to share it with them.